Calgary Health Trust & Lottery Home Programs
For the last 10 years, Calbridge Homes has been the exclusive builder partner of the Hospital Home Lottery programs. This has provided us the opportunity to help raise millions of dollars in proceeds to support medical advances and state-of-the-art care throughout Southern Alberta.
In 2017 the CHT began fundraising for a much needed expansion project to transform the current NICU at the Foothills Hospital into a leading edge facility, ensuring every newborn who was in need of specialized care had the opportunity to receive it. We were happy to be able to kick off their fundraising with a $500,000 donation.
Beverly Higham-Linehan, President of Calbridge Homes is a Calgary Health Trust board member, further exercising our commitment to these important initiatives.
RESOLVE Campaign
The RESOLVE campaign was born out of a partnership between the Calgary Homeless Foundation, Home Space Society, and various levels of government in a pursuit to end homelessness in Calgary. Calbridge Homes donated $1.4 million dollars to the cause and is currently constructing the 8th permanent supportive housing development of the campaign – The Triveri House. Once complete it will provide housing for 38 homeless and vulnerable Calgarians. The Triveri House is set to open in late Fall of 2020.
Calgary Food Bank
2020 will mark the 4th consecutive year that Calbridge Homes has been a partner in the Friends Helping Friends Food Drive. Alongside CTV, Safeway and Sobeys, we dedicate the month of April to raising food and funds for the Calgary Food Bank throughout the city as well as within our showhomes. Last year's campaign goal was to raise $250,000 in food and funds and together we were able to exceed that and raise $436,036 for the community.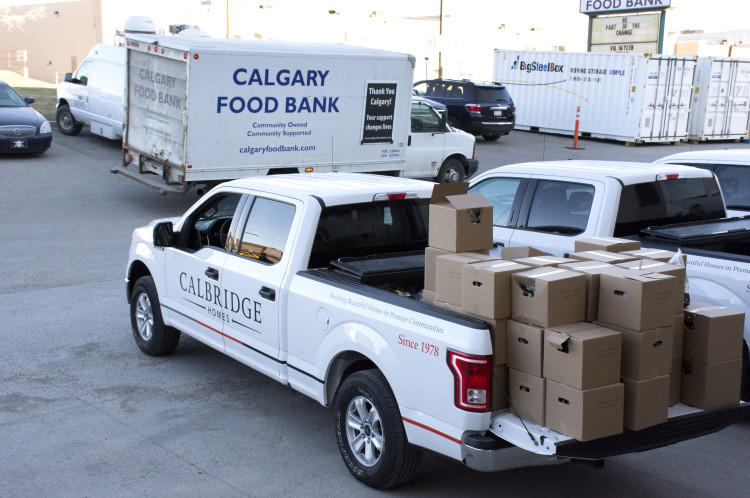 Calgary Women's Emergency Shelter
CWES serves more than 15,000 clients each year who are experiencing violence or abuse at home. Toy Mountain is an annual campaign to raise funds, essential items, and toys for the children and families affected by these circumstances. 2019 marked Calbridge Homes' first year being an official drop-off partner for this campaign. The campaign goal was exceeded and raised over $560K. This will continue to be an annual initiative for Calbridge Homes.